| | |
| --- | --- |
| GENRE: | Unholy Black Death Metal |
| ORIGIN: | United States |
| FORMED IN: | 2000 |
| CONTACT: | n/a |
WEBSITE:
myspace.com/manticore666
audiostreet.net/manticore
FOR FANS OF:
Archgoat, Profanatica, Blasphemy, Conqueror, Bestial Warlust, Beherit (early) and Black Witchery.
RELEASES ON HHR:
"Bowels of the Holy Anoint Us In Evil" (CD, 12" LP)
"Invocation of the War Beasts" (7" EP, 7" PIC DISC, CD, CASSETTE)
"For Rats and Plague" (12" LP, 12" PIC DISC)
VIDEO:
N/A
NEWS:
MANTICORE SPLIT ON CD & TAPE
posted March 18, 2009
MORBOSIDAD / MANTICORE - Invocation Of The War Beasts
(CASSETTE & CD)
OUT NOW! Commemorating both bands 2009 'Sangre De La Bestia' mini-tour, we've been asked to press a limited edition Cassette & CD version of their sold out "Invocation Of The War Beasts" 7" EP from 2004 (also released on HHR). Features 12 punishing minutes of blackened bestial fucking death not on any of their albums!! Limited pressing of 300 copies only sold by HHR and on the bands tour. This is a professionally manufactured quality cassette & booklet, no dubbed shit!
---
"BOWELS..." CD RE-ISSUE OUT NOW
posted June 10, 2008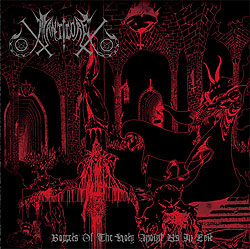 OUT NOW! Long out-of-print debut full-length album re-issued on CD with improved artwork and layout. Well-executed, simple down-tuned, raw chaotic distorted hymns; one of the very best in the warring bestial black death division! Too brutal to be called "Black Metal", too Satanic to be called "Death Metal"!
BIOGRAPHY:
n/a